Service Area Location
Peoria, IL and nearby.
We do solar in Peoria, Bloomington, Normal, Springfield, and surrounding communities.
Iowa Solar is more than just Iowa - we do a lot of work in Illinois too! We know the solar business inside and out, so if you want to install solar in Peoria, you have come to the right place. We know a lot about solar power and how to help you maximize your savings on your utility bill. Solar is the future.
We install solar panels on commercial properties, residential multiplexes, as well as single family houses in Peoria. No matter what kind of installation you have in mind, we are the company to contact. Our main headquarters is in Davenport, Iowa. It is not very far away.
There's no better time to install solar right now. In fact it is possible to save significant amounts of money by purchasing solar panels and getting a loan. You are already paying your utility bill every month, and reducing this expense is a great way to save money. Imagine a utility bill where you pay $200 per month in electricity. You could get a 20-year solar loan to power your solar system in Peoria and it might cost just $100 per month. This $100 per month might offset all $200 per month in electric bills, saving you a grand total difference of $100 per month off your total bills, which is an incredible savings. Solar is often a no-brainer for most people.
Central Illinois Is Going Green
Trust Iowa Solar's years of experience installing solar photovoltaic electric power to connect your solar system in Illinois. We can install all kinds of solar power system. Do you need solar on your barn in an Illinois cornfield? Iowa Solar can do that! We work on systems of all sizes, including farms, commercial, and more.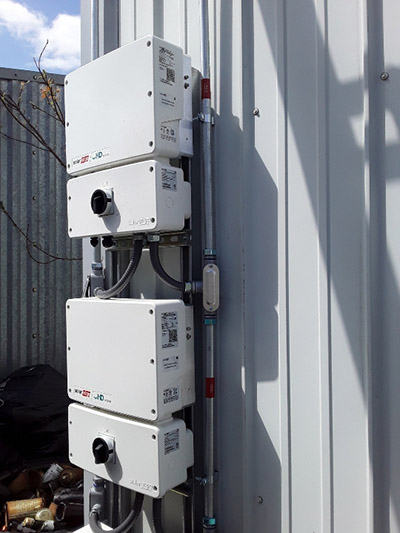 Ameren Illinois is an electricity and gas company with headquarters in Collinsville, Illinois. Ameren was founded in 1997. The company was founded by a merger between Missouri's Union Electric Company and the neighboring Central Illinois Public Service Company. Ameren headquarters in St. Louis Missouri, US. company has employ 9,474 people. Ameren is currently serving 2.4 million electric, and 900,000 natural gas customers. In 2009, AmerenUE signed an agreement to purchase 102 megawatts of wind power which is enough to power 26,000 households.
City Water, Light & Power (CWLP) is the municipal electric and water utility for Springfield, Illinois. Not many electric companies are still owned by cities. It is the largest municipally owned company in Illinois. CWLP was founded in 1911 and is over a century old. The utility has become an integral part of the Springfield community, providing service and value that extends far beyond the high-quality drinking water and low-cost electric power. CWLP has headquarter in Springfield, Illinois. CWLP employs almost 700 people in various capacities.