Rock Island, IL Solar Pros
If you live in Davenport/Rock Island/Bettendorf/Moline and are wanting to get Solar Panels installed then you are in luck as it has never been a better time to choose solar. Solar panels have dropped in price and Iowa Solar can install solar panels that will pay you back with interest in less than ten years. It's possible to get a solar panel loan for installing your solar panels in Rock Island and actually pay less per month than you're paying right now.
Local Quad Cities Solar Pros
Our professional quad cities solar installers are based in Davenport, Iowa and we've been operating in the quad cities area for years. We hope you will consider Iowa Solar as your solar installation company in Rock Island.
Rock Island Solar Power Tax Incentives
The tax incentives for going solar are fantastic and going away soon. In fact the federal government has mandated that tax rebates for solar power will decrease every year. So while when they were first enacted, the solar tax rebate was 30% off the price of your solar installation. Now the rebate is only 26%. This comes in the form of a federal tax credit which can be applied to the tax year in which your solar panels are completed. If you install solar panels on a business in Rock Island then that tax credit comes as soon as you sign the contract, not after installation is done. That's why going solar right now is the smart move for your business.
When it comes to solar companies in Rock Island, Iowa Solar is proud to be the best local solar installation company. We are all Quad Cities natives coming from cities like Davenport, Bettendorf, Rock Island, and Muscatine.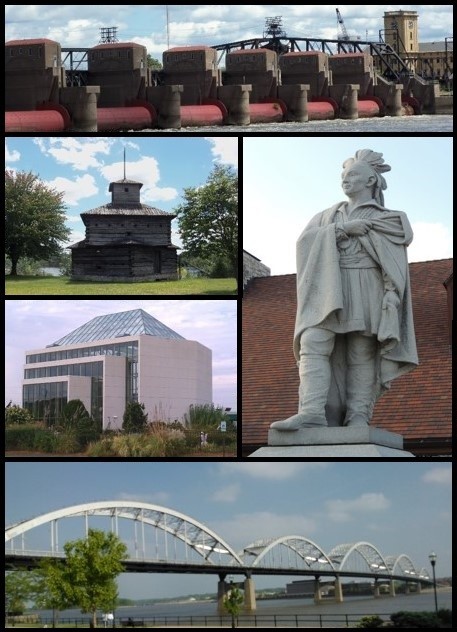 Solar power is a good decision in Rock Island because of the excellent sun coverage available in the Quad Cities. The average panel tilt of about 10 to 15 degrees towards the South can optimize your solar panel installation.
What to look for when installing solar in Rock Island?
You need an area that can adequately handle your solar installation. Normally this means on your roof. Most roofs in Rock Island consist of asphalt shingle construction, and metal roofs are pretty rare. However solar can easily be installed on both with similar equipment. Solar installations are installed on roofs with waterproof mounting brackets from various companies like IronRidge or SnapNRack. When solar is installed on a roof it provides convenient electricity for the residence it is installed on. You will need to have enough clear space on your roof and enough straight roof space for your home solar installation in Rock Island. If your roof is dotted with chimneys and skylights you may have less space for solar on your roof. A local solar professional will be able to tell you how many solar panels can fit on your roof.
You also need to have a roof that is clear of shade from trees. While you can install solar under partial-day shade you will not experience the same benefit when it comes to overall solar power output. Shaded solar panels perform much more poorly than panels receiving full sunlight all day long.
The amount of panels you need generally depends on your electricity usage. If you utilize a lot of electricity you will need more solar panels. You should lookup how many kWh, that's kilowatt-hours, that you consume in the average month. Refridgerators, electric water heaters, pool pumps, and electric heat all consume significant amount of electricity. Once you know this, then your solar professional in Rock Island can tell you how many panels you should install for optimal coverage.
Solar Companies Rock Island – Manufacturers
Various solar panel companies' solar panels can be installed in Rock Island. These solar panels come from companies like Hyundai, Panasonic, Huawei, LG, Q-Cell, Canadian Solar, and many others. A professional solar installation company might offer the choice of panels to install, however name-brand panels like Panasonic and LG may be significantly more expensive than those from companies that only do solar. This is because solar-focused companies are leaner and more efficient than large publicly-traded names. That's why it's often a great cost savings to purchase solar panels from a company that only does solar and nothing else except for maybe battery backup systems.
Getting a quote.
You can fill out this form to get a quote for solar installation. Getting a quote requires no-obligation and is completely free.